Watertown Art League Inc
Publicity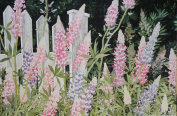 WAL Demo:  Laura Eden, Watercolor Demonstration
The Watertown Art League will present Laura Eden on Monday June 13, 2011 at 7 PM at the First Congregational Church meeting room, 40 Deforest St., Watertown, Ct.  Everyone is welcome to this free presentation.
Watercolor Demonstration will be presented by Laura Eden, well known Watercolorist.  "My paintings are meant to trigger daydreams.  They are a response to quiet moments spent in nature's grasp."  Laura has been passionate about her art since she was a small child.  Laura spent summers in her Old Saybrook studio painting Connecticut.  A graduate in art from Syracuse University, Laura has been the recipient of many awards.  She is and has been represented by many galleries.  A treat to watch and a great opportunity to learn, this demonstration will be interesting for everyone.  Her work can be viewed at laurajeden.com.
The Watertown Art League meets the 2nd Monday of the Month at The First Congregational Church meeting room. The League maintains a 30 year history of providing informative open meetings/demonstrations, and successful art shows. Meetings are always open to the public and are free.   Visit our web site for directions, membership forms, workshops and information.  http://run.to/WAL or call May at 203-574-2835.
Contact information
Anita Gregorski
anitagre@sbcglobal.net
203-758-9166